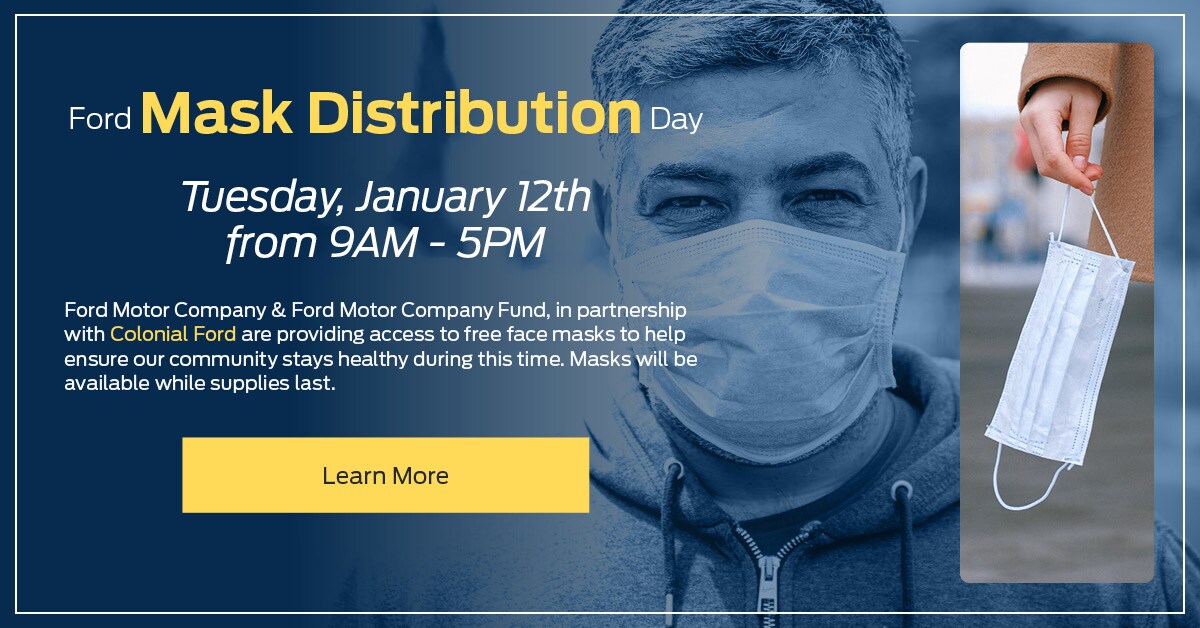 Visit Colonial Ford for PPE/Masks as Part of Ford Fund Mask Donations
The goal of our Danbury Ford dealership is to always ensure the safety of our customers and employees in every interaction, especially during unprecedented times like the ones that we find ourselves in. We are so lucky to have the support of the Danbury community, and we are always looking for ways to give back and provide any help that we can. That's why we're excited to announce an upcoming Ford event on January 12th, where we will be giving out PPE/masks to our community! We are excited to take place in this event and help provide a measure of safety for everyone!
What is the Ford PPE Day and When Does It Take Place?
On January 12th, from 9 am to 5 pm, Colonial Ford will host a distribution event where we will give out PPE/masks to the community to help slow the spread of COVID-19. We adhere to the guidelines set forth by the U.S. Center for Disease Control, which states that masks can help prevent the COVID-19 virus from spreading too rapidly.
This event is part of an initiative by the Ford Motor Company to help produce and deliver 100-million masks to at-risk communities around the United States. On this date, Colonial Ford will welcome all who adhere to these guidelines and arrive ready to procure masks for those in need. Each person will be limited to 20 face masks per person, but they are free and ready to be given to those who need them!
We want you to enjoy a safe experience, whether you are shopping with us or enjoying the benefits of the Danbury area. While masks aren't the only solution that we recommend to keep you and your family safe, we know that it is an important part of helping to slow and stop the spread of the COVID-19 virus.
If you have any questions about the event, please feel free to reach out to our Danbury Ford team! We look forward to seeing you on January 12th from 9 am to 5 pm!